Learn More About our Life-Changing Internship Program
The Flourish Bakery Internship Program is a comprehensive, 15-month paid internship designed to foster hope, healing, and accountability while simultaneously teaching the art and skills of professional baking to those recovering from substance use disorders with a history of incarceration.
Since its inception in 2017, Flourish has been the only "Second Chance" program in Utah.
Requirements:
To qualify for this life-changing opportunity, candidates must be in active recovery, attending therapy and addiction-recovery meetings, and doing the hard work needed to remain sober.
Benefits:
Flourish interns are paid $14/hour and complete approximately 32 to 40 hours per week working and learning in the bakery.
They also receive the following benefits:
A living wage of $14/hour while working at the bakery

A three-to-one ratio of students to culinary instructors

A daily group reflection and a communal meal

Access to mental health counseling

A membership to Warrior Strength, a gym founded on

recovery principles

A set of work clothing

A weekly writing group

A focus on financial wellness through counseling services with AAA Fair Credit Foundation

Access to commercial and professional baking equipment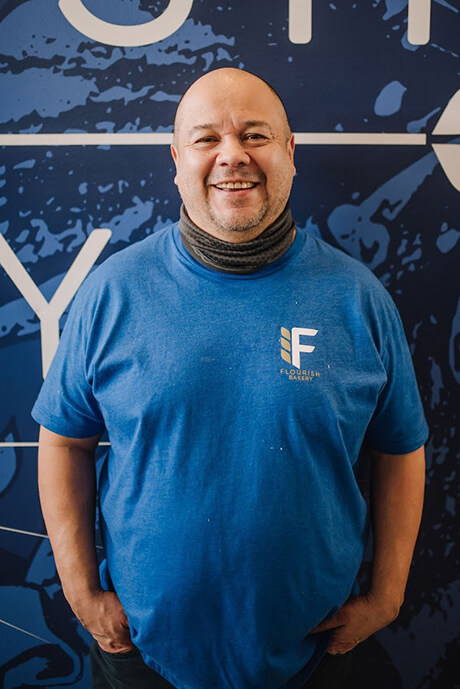 "I lost my little sister at a young age, and that's when I fell into the rabbit hole of addiction. I started getting arrested and going to jail. I became a single father with two kids. When I got out of federal prison, I was six years sober. I wanted to stay sober, but I didn't know how.
Today I know how to live in recovery because I found Flourish. I became stable. I learned to love myself. I know what it's like to have my kids back in my life. I know what it's like to have my own place and be a grandfather.
I am proud of who I am and what I've done. Thank you to all my Flourish family. I know what it's like to have healthy relationships today. "
Dennis recently completed his Flourish internship and now has a full-time job as an artisan baker at Harmons Grocery. He is a Flourish Ambassador who mentors new interns and shares his experience with the greater community.